L'oggetto che cerchi è esaurito, ma abbiamo trovato qualcosa di simile.
Kensington SUPPORTO MONITOR PLUS con SmartFit System
EUR 69,47
+ EUR 34,66 Spedizione
Consegna prevista:
mer, 30 ott - ven, 1 nov
Accettate entro
14
giorni
L'acquirente paga le spese di restituzione
Include il codice spedizione internazionale.
Spese di importazione di EUR 0,00 (circa)confermate al momento del pagamento.
Se non ricevi l'oggetto che hai ordinato sarai rimborsato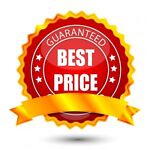 ultimatediscountoutlet
Punteggio di Feedback

(3267)
Oggetti correlati da considerare
Informazioni sull'oggetto
Descrizione dell'oggetto
"
Monitor Stand Plus with the SmartFit system adjusts monitor height to your optimal viewing angle to help to reduce eye and neck strain. Expands usable desk space by allowing storage underneath platform.
"
Vedi tutti
Prodotto più venduto in Altro arredo e ufficio
EUR 37,95 Novità

---- usato

EUR 10,31 Novità

---- usato

EUR 55,95 Novità

---- usato

EUR 49,90 Novità

---- usato